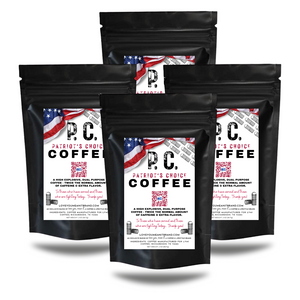 Love you, mean it.
P.C.- Patriots Choice (Case of 50 2oz Sample Packs)
Sale price Price $137.50 Regular price
With gratitude and love, our Patriots Choice label is dedicated to our Veterans and those fighting today. For the courage and strength they posses,  this Brazilian and Indian bean blend is HEDP equivalent packing an extra kick and bold flavor. 
WE ARE CURRENTLY OFFERING THIS SPECIAL PATRIOTS LINE IN 2oz SAMPLE PACKS IN CASES OF 50. GIFT TO A VETERAN, A PATRIOT, OR SPECIAL OCCASION. 

* 12 oz bags coming soon!